Advanced Info Service Pcl. (SET: ADVANC), or "AIS" has set yet another milestone with its 2023 operations plan, aiming to turbocharge economic growth with the ECOSYSTEM ECONOMY of inclusive cross-sector integration. Thai potential is being built up with Intelligence Infrastructure powered by the nation's biggest 5G and home internet network, to deliver the best experiences to customers and the Thai public.
Digital Intelligence Infrastructure of 5G networks, home internet and 5G platforms for industry with investment budgets for this year of 27,000 – 30,000 MB.
Cross-industry: Connections and collaborations with 1.8 million small merchants nationwide, building mutual growth for customer benefit.
Human Capital & Sustainability: Levelling up Digital Talent capabilities for Thai people through Education Platforms to build digital skills and promote cyber-immunity.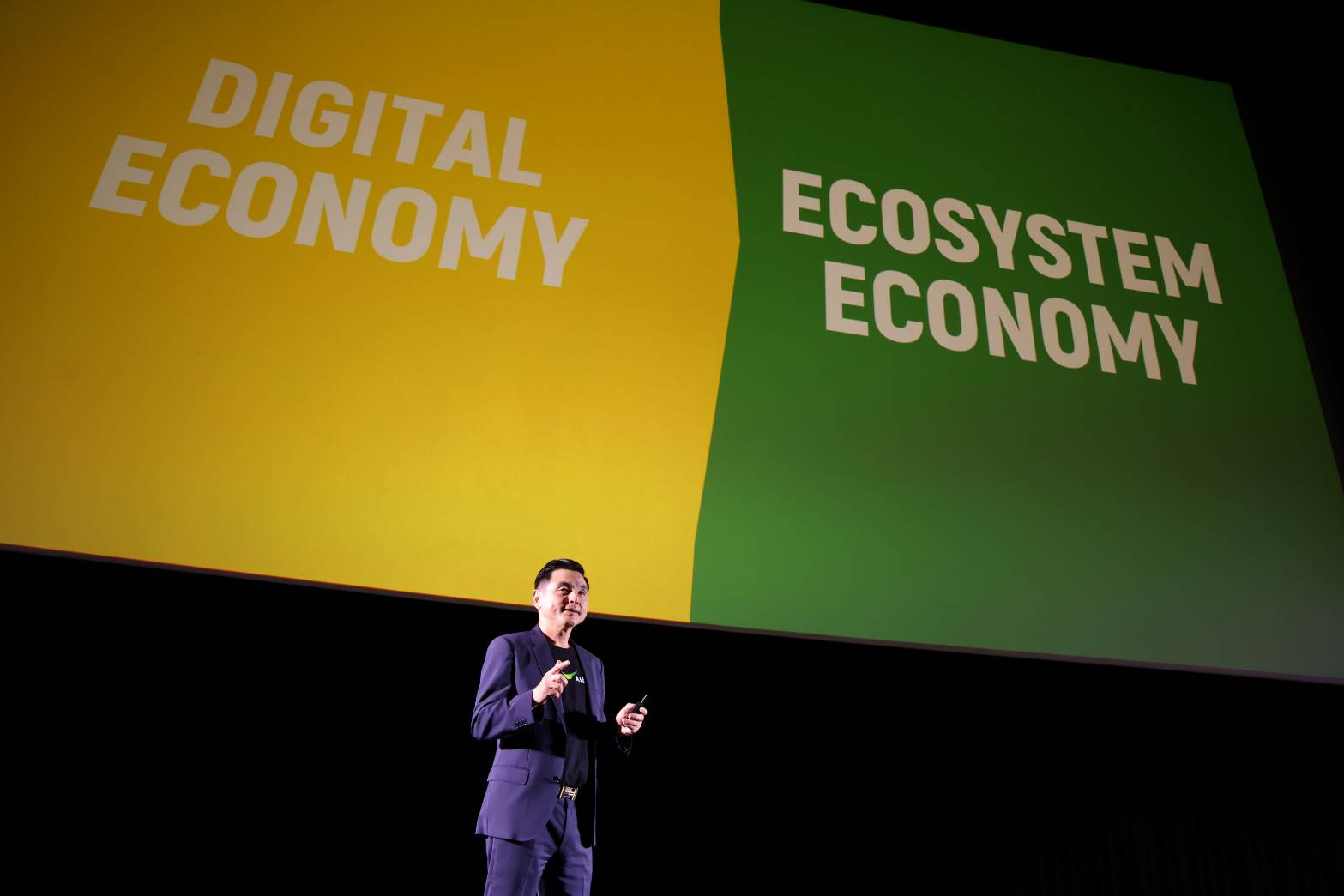 Somchai Lertsutiwong, Chief Executive of AIS, noted, "Last year's operations generated growth in profits, revenues and customer numbers, despite fierce competition. As of today, AIS is able to deliver the fastest 5G network speeds to provide digital service, with number one coverage nationwide of over 87%, as well as high speed AIS Fibre broadband Internet reaches every location in Thailand with 8.8 million Thai households.
"All of this demonstrates the AIS can always overcome its challenges in the changing face of competition. This is how we came up with the concept of AIS BEYOND THE BOUNDARIES, to take our customers and the Thai public beyond boundaries while building the ECOSYSTEM ECONOMY for mutual growth, when  every user should get the best experience from AIS at any time of the day."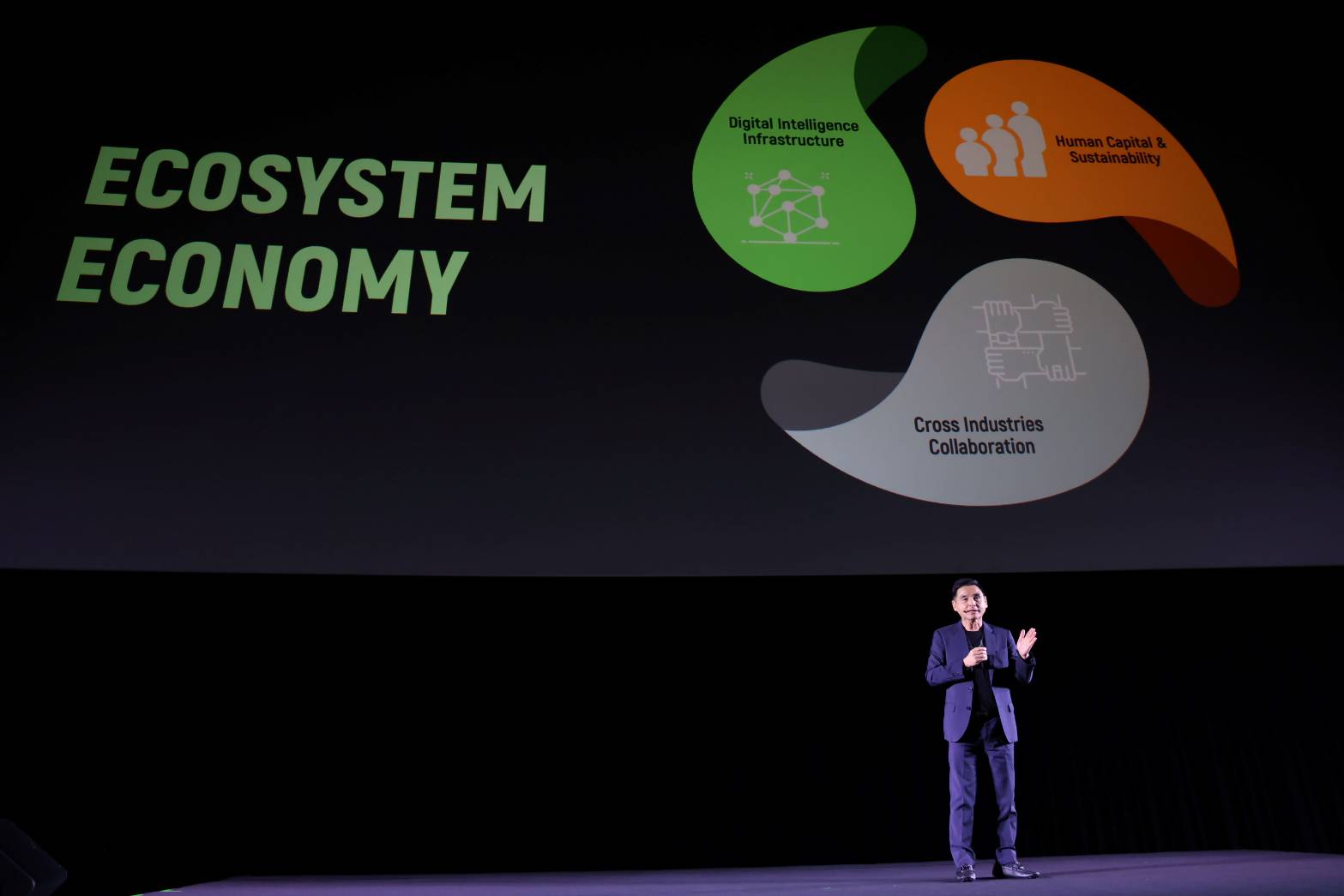 Somchai explained further that the Cognitive Tech-co vision was to provide the best products and services for customers and the Thai public, by pushing past boundaries to create the ECOSYSTEM ECONOMY. Today AIS regards every sector as a combined ECOSYSTEM with new capabilities of inclusive growth for the economy. Networks must be interactive and constantly engage with customers. They should be providing Personalization services for customers, matching what they want, as well as giving the speed to deliver customers' desires in real time. Autonomous Network Monitoring technology constantly monitors customer usage in real time to allocate network capacity automatically. Customers are looked after with Intelligent Service from AIs, which are assistants to detect issues and troubleshoot with Smart Diagnostics.
AIS is setting new standards for industry by levelling up Digital Intelligence Infrastructure, by holding the most wave bands of spectra, in the low, middle and high frequency ranges totalling 1460 MHz. It is also partnering with NT to develop a resilient national digital infrastructure deploying frequency bands for Thai people's greatest benefit, as intended by both operators at auction. This also enables NT to provide efficient service to customers as a national telecom organization, while AIS customers receive improved service from additional 700 MHz frequency bands (Downlink 5 MHz and Uplink 5 MHz), giving AIS a total of 40 MHz (Downlink 20 MHz and Uplink 20 MHz) to provide service on the 700 MHz band to cover every use case.
AIS is now the first operator to have rolled out the energy-saving 5G SA (Stand Alone) service to all 77 provinces, with 92% coverage in the Eastern Economic Corridor (EEC). Most recently this has been upgraded to support high-frequency Millimeter Wave for the first time. This blew away the 5G standard by achieving 3 Gbps on the 5G Millimeter wave network in the 26 GHz spectrum for the first time in Thailand on an advanced smartphone.
As well as this, AIS Fibre home Internet reaches every location in Thailand with 8.8 million Thai households. and market share subscribers of 16%. At latest, AIS has been setting new standards with Transparent Fiber Optic technology. This connects to equipment to project the signal, and sets up a home Internet network supporting Gigabit transfer speeds in every room of the house simultaneously, while also providing Seamless Roaming on WiFi for the best home internet experience.
The company is also upgrading the industrial sector with AIS PARAGON  (Next Generation Orchestration Platform). This is a One Stop 5G Platform for industry to efficiently manage its resources through the Cloud and Edge Computing. In terms of infrastructure, the Green Data Centre is under construction and will be the biggest Data Center in the country on completion.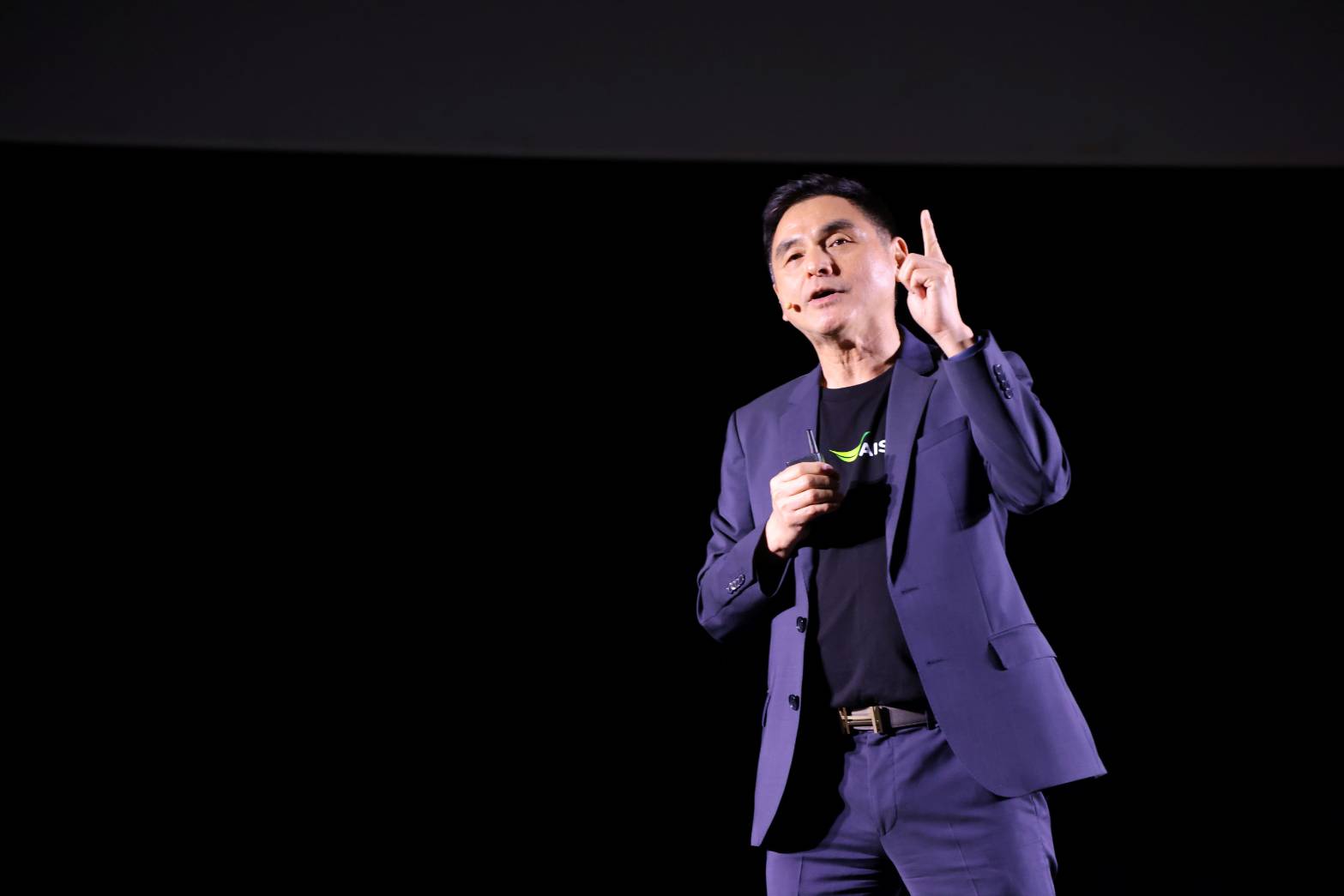 The AIS CEO also highlighted cross-industry collaborations with partners in every sector from local to global. This year, the company has been working with shops in the Tungngern network, Blue Flag stores, independent retailers, mom and pop stores, and street food vendors, totalling over 1.8 million merchants covering the entire country, using the PromptPay system of Krung Thai Bank (KTB). There have also been partnerships with Thailand's leading retailers such as Central, including over 20,000 shops under famous national brands. This powers and supports local economies by enabling customers to redeem their AIS points for a range of exclusive privileges such as dining, travel and shopping. At the same time, the company has been working with Bangkok Bank (BBL) in converting debit card services to apply Be1st Digital AIS POINTS. This program enables the collection and accumulation of points from partners, as well as directly from AIS services, expanding online shopping to support the digital economy.
AIS is also working with global partners to deliver exceptional digital experiences, such as SAMSUNG TV providing privileges to home net and Smart TV users for a full menu of home entertainment. ZTE's Nubia Pad 3D tablet is the first of its kind to be powered with artificial intelligence. It provides a virtual experience of communication, streaming, gaming and sharing 3D data with no peripheral devices. There are also financial services being offered through financial institutions such as UOB and the UOB Best Buy service, which enables customers to access financial services on their 5G smartphone more easily than ever before.
Even better, AIS has now gone beyond the boundary to make partnerships with both local and global content providers, to provide Thai people with amazing content from the likes of Disney+ Hotstar, Netflix, 3Plus and MONOMAX. Top international sports content includes tennis, and football, which includes The UEFA Champions League, the Europa League and many leading European leagues on the beIN Sports channel. Today, AIS is offering the exclusive privilege for its customers to watch every match on every channel for free until 11 April, 2023.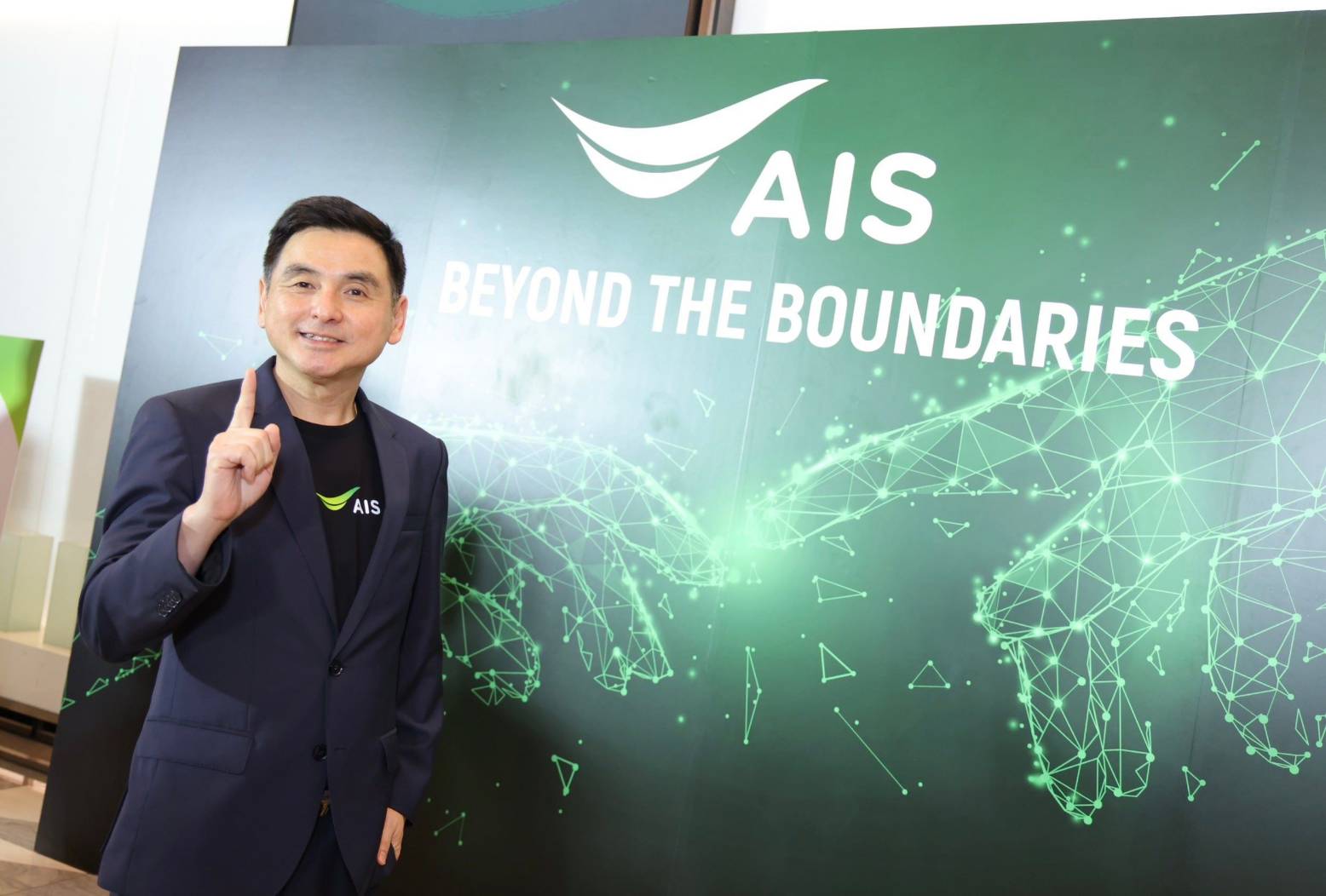 In terms of education, the AIS CEO explained that one policy to unlock potential which can power the economy and society, is leveling up the quality of education for Thai people by creating value and giving every user access to digital education. To further enlarge educational opportunities, AIS Academy has now partnered with the Canadian Embassy in Thailand and Colleges and Institutes Canada (CICan). This collaboration offers syllabi from leading Canadian educational institutions. It is another case of bringing the borderless world to Thai people's doorsteps, enabling customers to learn and enjoy self-development. Today, we are also leveraging our digital networks as tools for cyber-security, while also promoting skills among Thai users to be aware of scams, so they can enjoy their digital worlds securely and responsibly through the AIS "Aunjai CYBER" program.
Somchai concluded, "Our ongoing investment, which is the biggest in the industry, has made AIS the telecom brand ready to overcome boundaries to build the ECOSYSTEM ECONOMY for inclusive growth and provide digital experiences with intelligent networks, the biggest home internet network in Thailand, the most exclusive privileges, and the very best services from our collaborations with partners in every sector. They are working together to synergize their strengths for customers, the Thai public and the nation as a whole."