Airport of Thailand's top executive reveals the increased number of passengers' during the country's 2023 water splashing Songkran holiday compared to 2022, signifying the jump of earnings by the year end.
Approximately 2.37 million travelers are expected to arrive at six airports owned by the Airport of Thailand (AOT) during April 11-17, a 137.48% rise from the same period of 2022. This makes 2023 earnings forecast for Thailand's airports operator; AOT to increase to 15-billion baht from previously forecasted of 12-billion baht.
The total number of flights is anticipated to increase 59.62% to 14,220 flights, consisting of 7,500 international flights, representing a surge of 220% from last year, and 6,720 domestic flights, which slightly increases 2.44%.
However, this year's figures are still incomparable once compared the pre-pandemic in 2019.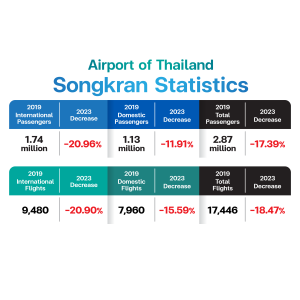 According to InnovestX Securities analyst, the Airport of Thailand's 2023 earnings is expected to increase due to the influx of Chinese visitors. The airport's earnings in 2023 will be 15-billion baht, with a sharp rise to 27 billion baht in 2024.
Meanwhile, the remedial measure for airport's concessionaires expired on April 1, which means that the airport will resume its receivable income that had been exempt during the fiscal year 2019 onwards to support retailers from Covid impact. This includes income from King Power Group and its units that also receive a remedial measure from AOT.
Now the criteria are back to be based upon the Minimum Guarantee criteria — which means the duty-free store has to pay their fee based on the minimum amount of passengers set by the airport. The minimum guarantee is at 230 baht per person compared to the 100 baht per real passengers back in 2019.
Therefore, it is expected that AOT's income from profit sharing will grow strongly in the second half of the year, reaching 17-billion baht this year, a jump from 4-billion baht in 2022, and edging closer to pre-pandemic level.
The brokerage firms set the consensus target price for AOT at 82 baht.