Indorama Ventures Public Company Limited (IVL) has announced its 3Q21 consolidated financial statement through the Stock Exchange of Thailand as follows;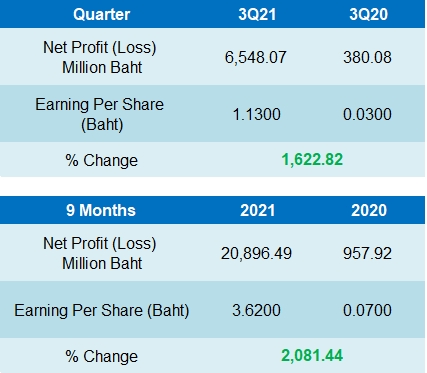 IVL reported a net profit of 6,548 million baht in 3Q21, increased 1,622% from a net profit of 380 million baht in 3Q20. The increase was mainly due to higher revenue in the period, especially the revenue from sale of goods that rose 56% from 81 million baht in 3Q20 to 126 million baht in this quarter. Moreover, IVL recorded lower impairment loss of PPE in 3Q21 at 10 million baht, compared to 268 million baht in the same period last year.
The company delivered strong 3Q21 results with Core EBITDA of US$ 437M (IVOL US$ 11 million expenses, net of business interruption insurance claim of US$ 8.5 million, moved to extraordinary item), and record production volumes of 3.73 MMT.
The successive strong performance over the last quarters leads us to a record YTD performance, ending the first nine months with a Core EBITDA of US$ 1,281 million, up 50% YoY. IVL's business model of integrated and regional supply across a diversified geographical and product base is proving its robustness.
"Looking to the end of the year and into 2022, we expect demand for IVL's products to remain robust across the portfolio, bolstered by continued economic recovery. With the hot commissioning of Lake Charles (IVOL) in Q3, our IOD segment will begin to reap the full benefits of the cracker in Q4 and 2022, as well as continued advantaged shale gas economics. MTBE margins may see partial recovery with stronger LATAM demand, however butane prices are expected to remain high over the winter months. Headwinds coming from high energy prices globally and the ongoing semiconductor shortage affecting Mobility fibers are likely to persist. Recovery of Lifestyle fibers will continue as Asia emerges from the COVID resurgence and Hygiene fibers will benefit from the reversal of the negative raw material lag impact. The supply chain will remain disturbed due to lack of infrastructure for last mile delivery, keeping freight rates high. This coupled with robust demand for our product portfolio, low pipeline inventory, and continued strong margins in Western economies, are encouraging signs for IVL's Combined PET business. In Q4, IVL is putting in place surcharges to mitigate the high energy costs. Moreover, PTA margins in the US will increase, giving further boost in the region next year. The next quarter will begin to reflect these tailwinds, while favorable new contracts support a strong 2022. Overall, we look forward to a highly positive 4Q21 and 2022 for the entire IVL portfolio," wrote IVL.