Bangkok Dusit Medical Services Public Company Limited (BDMS) has announced its 3Q21 consolidated financial statement through the Stock Exchange of Thailand as follows;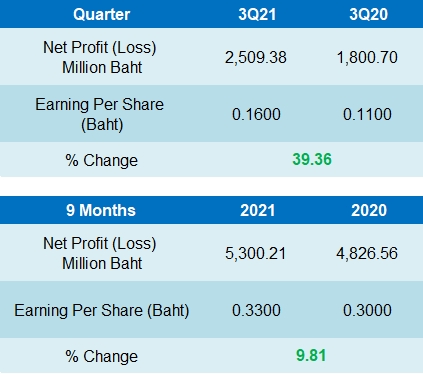 BDMS reported a net profit of 2,509 million baht in 3Q21, increased 39.36% from a net profit of 1,800 million baht in 3Q20. The increase in net profit was a result from higher operating income, continued cost saving program and lower finance costs.
The company reported operating income in 3Q21 at 20,158 million baht, increased 19% YoY. This was attributed by an increase in revenue from hospital operations of 17% YoY, given solid revenue growth mainly from higher Covid-19 related revenue, which accounted for 25% of revenue from hospital operations). More importantly, occupancy rate increased significantly from 48% in 3Q20 to 71% in 3Q21.