Freight rates have been on a decline year as supply chain disruptions continue to ease from the impact of Covid-19 since 2020, while a lot of the slowdown in container and vessel demand added to the plummet.
Three of the leading Thai shipping stocks also underperform the market this year despite Thailand's main exchange SET Index is still 1% below its starting point in January and after the peak season of shipping businesses in the second quarter this year.
The share price of Thorsen Thai Agencies Public Company Limited (SET: TTA) fell 12% from the beginning of this year and a -8% performance in 2Q22.
Regional Container Lines Public Company Limited (SET: RCL) plunged 31% year-to-date and -14.28% in 2Q22.
Precious Shipping Public Company Limited (SET: PSL) decreased 17.5% so far in 2022, but +5.14% in the second quarter.
Meanwhile, the Baltic Dry Index (BDI), a widely recognized indicator for the price of moving major raw materials by sea, fell almost 95% this year to 1,178 from 2,289. The index saw its peak of around 3,370 in May.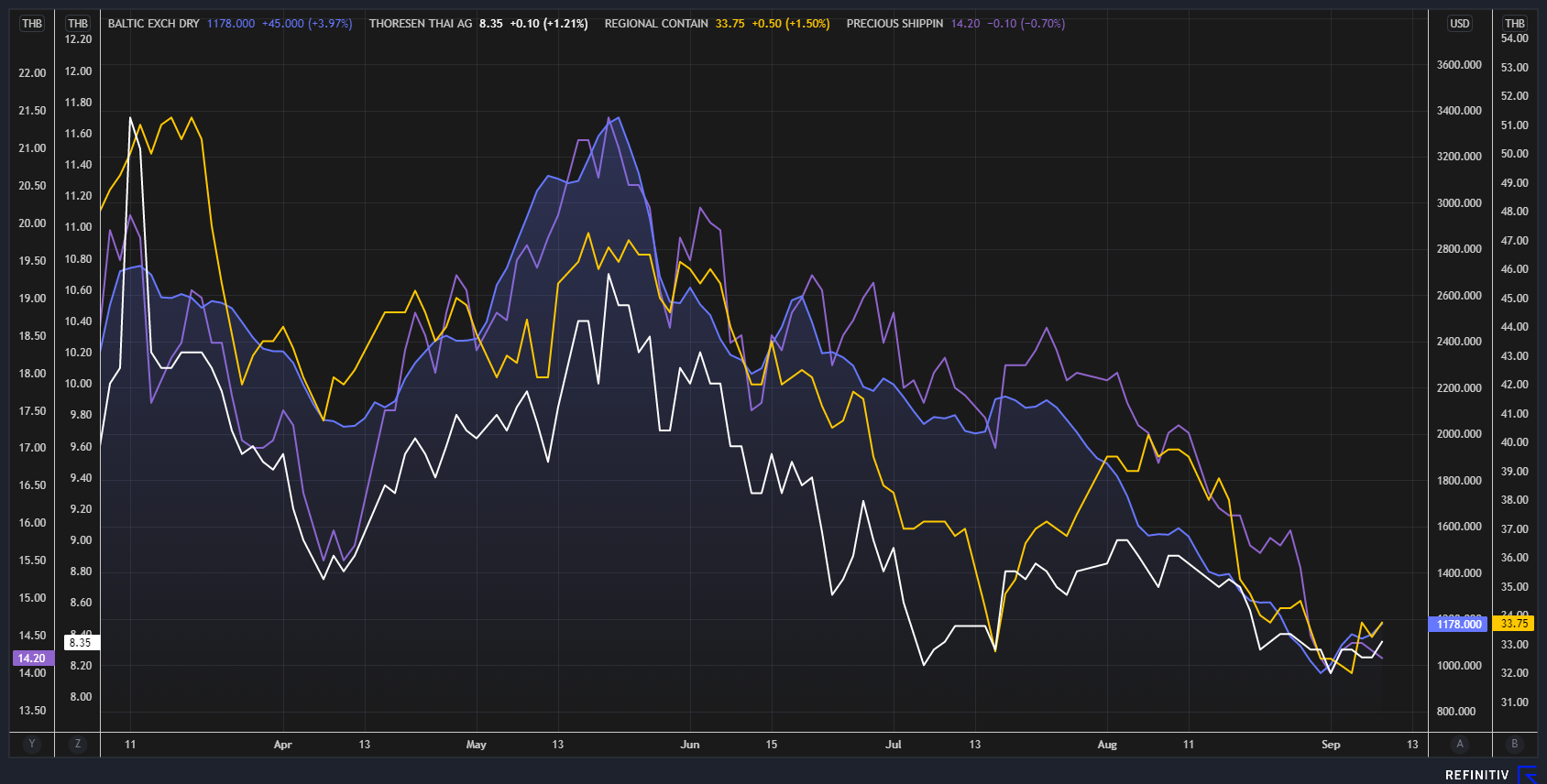 According to S&P Global Market Intelligence, a much reduced port congestion level, along with weaker cargo arrivals, was one of the major reasons behind the significant decrease in freight rates.
The research group wrote that based on expectation of weaker trade volume, they do not expect extremely high congestion again in the coming quarters as dry bulk freight rates had peaked in the second quarter, a quarter early to its typical seasonality performance.
S&P Global's Freight Rate Forecast models predicted BDI to continue falling by 20% to 30% this year before recovering slightly in 2024.
Meanwhile, the World Trade Organization also published a report saying that the volume of world merchandise trade in the first quarter of 2022 had slowed down to 3.2% year-on-year and also down from a 5.7% reading in 4Q21.
The slowdown was partly due to the ongoing war in Ukraine and lockdown restrictions in China.