AP Thailand with brand promise of Cheevit Dee Dee Tee Lueak Eng Dai shares industry leading numbers with strong growth in all circumstances
During 9-month period, total revenues, including JVs, top Bht 37,560 million, net profit grows to Bht 4,720 million, financial position primed for more success with D/E ratio at a low 0.52
Industry leading 10-month net pre-sales hit Bht 45,410 million, exceeding 90% of Bht 50,000 million all-year target
Set to launch 18 new projects worth Bht 26,360 million in final push targeting all locations in city centre and outlying areas to give good life on customer's terms
Low-rise presence to be further increased to maintain leadership in townhome and SDH with new brand MODEN rolled out in first 3 locations: Rama 2, Bangna – Theparak and Bangna – Srinakarin as yearend highlight 
In response to recovery of condo demand, ASPIRE Onnut Station unveiled as flagship project 'Exclusive ASPIRE' to shake up market for new condos on Sukhumvit Road 
Mr. Vittakarn Chandavimol, Chief Corporate Strategy and Creation, AP Thailand Public Co., Ltd., said that AP is making good progress with its business plan for 2022 set to be the year of breakthrough in making a superior difference to people's new way of life as the company aims to give customers Cheevit Dee Dee Tee Lueak Eng Dai by launching the largest number of projects in the industry in all locations in response to housing demand in every segments. According to Mr. Vittakarn, AP has been successful as planned and has been able to make new records on its way to solid growth. It has reinforced the company's leadership in every business, be it townhome, single detached home or condominium, as reflected in growing operating results, whether it be in total revenues, profitability and sales.
During the year's nine-month period, the company recorded total revenues of Bht 37,566 million from low-rise products, condominiums (100% JV) and other businesses. It was a new high and constituted 80% of the total-revenue target set for the whole year at Bht 47,000 million or a growth of 24% on the same period of last year when it recorded Bht 30,324 million of total revenues. Net profit was as high as Bht 4,722 million, up 33% on the same period of last year when its net profit stood at Bht 3,549 million. Meanwhile, the company's debt to equity ratio was rock solid at 0.52.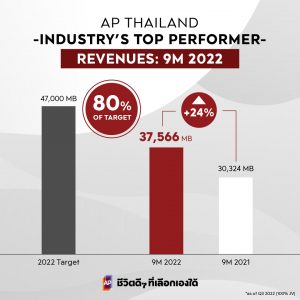 Confident of reaching Bht 47,000 million all-year target
The low-rise portfolio, including single detached homes and townhomes, continued to be superstars of the year contributing revenues to the company as key drivers thanks to a great response from customers who continued to have ownerships transferred for both newly launched projects and ongoing developments. The performance was also helped by a recovery in the market for condominiums which was back on track in a positive direction with revenues continuously realized. It was reflected in the momentum that carried the transfer of ownership in AP's two condominium developments which were completed in the third quarter of the year: RHYTHM Ekkamai Estate and LIFE Sathorn Sierra. As a result, the company registered a backlog of Bht 37,065 million as at 31 October 2022. Revenues from the backlog will be realized through to 2025. Therefore, it is confident that the all-year target of Bht 47,000 million will be certainly achieved and that it will be able to keep the solid growth momentum well into the future.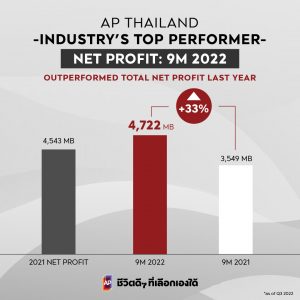 New record made exceeding 90% of Bht 50,000 million sales target
In addition, the company continued to have strong sales and kept making new records well past its all-time numbers. For the period ended October 31, the company recorded pre-sales of Bht 45,408 million or 90% of its sales target set for the whole year at Bht 50,000 million, a growth of 46% on the same period of last year. The presales were divided into Bht 36,154 million from single detached homes and townhomes, up 26% and Bht 9,254 million from high-rise products, three times higher than the previous year. The strong sales were attributable to customers' confidence in AP's more than 17 brands which are committed to developing residential properties that understand the real needs of customers in order to deliver different living desires to realize every definition of happiness. It also reflected existing housing demand, whether it be in the ever growing low-rise sector or, particularly, the condominium market where recovery has been evident with a return of customers.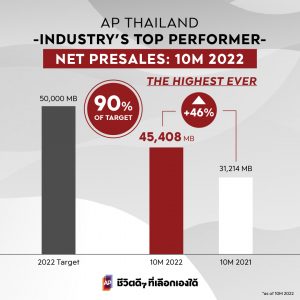 Move on in final push to launch 18 new projects
The company will continue to proceed according to plan to break through every limit. In the fourth quarter, it plans to launch a total of 18 new projects worth Bht 26,360 million. Among the highlights for the last two months is the introduction of a 'new life space' from its newest single detached home brand MODEN which will roll out massive standalone houses in the Rama 2, Bangna – Theparak and Bangna – Srinakarin locations for prices ranging from Bht 3.99 million to Bht 9 million, along with the Bht 2,700-million ASPIRE Onnut Station condominium, a flagship project "Exclusive ASPIRE" that is destined to shake up the market for new condominiums in the area on Sukhumvit Road, only 200 metre from BTS Onnut station; Prices of one-bedroom units start at Bht 129,000/square metre or only Bht 3.59 million. Exclusive Booking is scheduled for 26 – 27 November.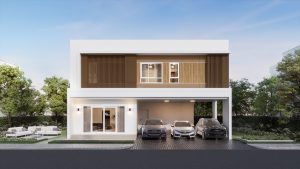 The company remains committed to the main mission to deliver Cheevit Dee Dee Tee Lueak Eng Dai with foolproof business plans, resilience, centralised management and cautious cashflow control.