The share price of SISB Public Company Limited (SET: SISB) is on a three-day winning streak after reporting satisfying 3Q22 earnings results late last week, while the stock broke THB20 resistance level for the first time in its history to reach a record high this morning.
SISB recorded a gain of 3.57% in the morning session on Thursday to trade at THB20.30 per share at its historic high. The share prices are on a three-day winning streak for a gain of 8.55% in total.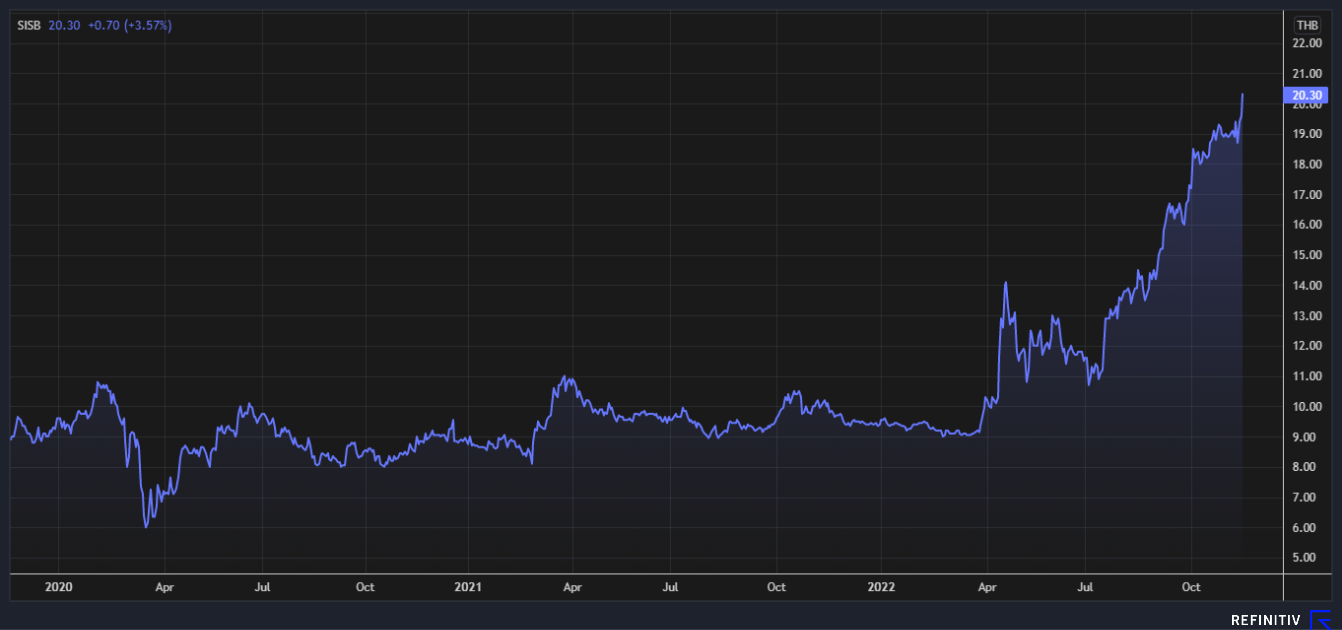 SISB reported a net profit of 99.44 million baht in 3Q22, increased 115% from a net profit of 46.10 million in 3Q21. The increase in net profit was due to the increase in the revenue and most administrative expenses of the company are fixed.
Quarter
3Q22
3Q21
Net Profit (Loss)
Million Baht
99.44
46.10
Earning Per Share
(Baht)
0.1100
0.0500
% Change
115.71
9 Months
2022
2021
Net Profit (Loss)
Million Baht
240.93
182.16
Earning Per Share (Baht)
0.1100
0.1900
% Change
32.26
The company recorded 337 million baht of tuition fees and services income in the third quarter of 2022, increased 32.46% from the same period of last year. Meanwhile, education equipment income rose by 457% to 4.35 million baht for the quarter from 0.78 million baht in 3Q21. Net profit margin rose to 28.59% in 3Q22 from 17.89% in 3Q21.
At the end of September 2022, the company had 3,044 students, compared to 2,275 students in 3Q21 and 2,731 students at the end of 2Q22.
According to estimations from Refinitiv, SISB is expected to report an all-time high revenue of THB1,297 million in 2022 and also a record high of net income at THB339 million this year. Refinitiv consensus expects 12-month target price for SISB at THB21.70 per share.