PLYMOUTH, Minn., February 2, 2023 – NatureWorks, the world's leading manufacturer of low-carbon polylactic acid (PLA) biopolymers made from renewable resources, hosted a cornerstone laying and groundbreaking ceremony to celebrate construction of their new Ingeo™️ PLA manufacturing complex in Thailand.
The ceremony which took place on February 1st, 2023 commemorated the progress made to date on the new fully integrated biopolymer facility located on the Nakhon Sawan Biocomplex (NBC) in Nakhon Sawan Province, Thailand.
The new facility is designed to be fully integrated and will include production sites for lactic acid, lactide, and polymer. With completion of the facility expected in the second half of 2024, the manufacturing site will have an annual capacity of 75,000 tons of Ingeo biopolymer and will produce the full portfolio of Ingeo biopolymer grades.
"This ceremony is a meaningful milestone for the whole NatureWorks team," said Rich Altice, President and CEO of NatureWorks. "For the last 3 decades, we have been building not just a company or manufacturing facilities, but a whole new industry and market for low-carbon, renewable biomaterials that are revolutionizing the sustainability and safety of the materials we can use in our packaging, in our products, in our everyday lives."
In November 2022, NatureWorks announced the selection of the TTCL Public Company Limited (SET: TTCL) as the general contractor for the project and that early-works construction for piling, underground piping, storm water management, and tank foundations was underway.
The expanded global production of Ingeo biopolymers will support growth in markets including 3D printing and hygiene as well as compostable coffee capsules, tea bags, flexible packaging, and food serviceware that demand sustainable, low-carbon materials and require the high-performance attributes that Ingeo is uniquely suited to deliver.
For more information about NatureWorks and Ingeo, or to purchase Ingeo biopolymer resin visit www.natureworksllc.com. Follow NatureWorks on Twitter (@natureworks) for the latest updates.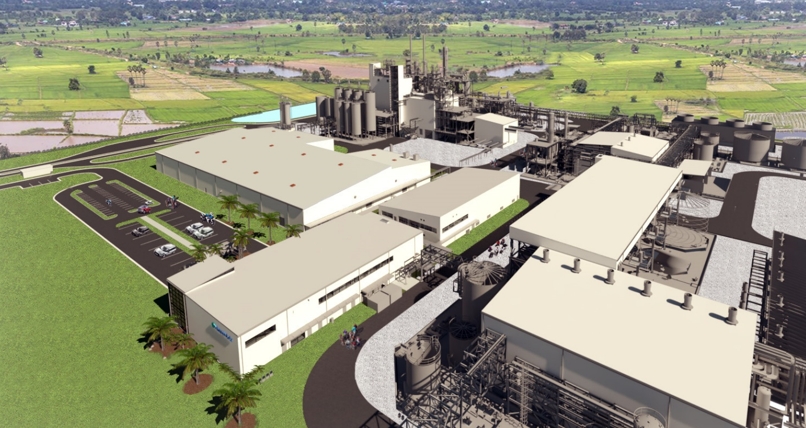 Construction is underway on NatureWorks's new Ingeo PLA manufacturing facility in Thailand with expected completion of the facility on schedule for the second half of 2024.