AIS unveils 2022 results illustrating digital leadership capabilities.

Revenue growth of 2.3% YoY from Fixed Broadband outpacing the market.

Expecting Bt 27-30 bn to be spent in 2023 focusing on the Autonomous Networks and boosting service quality to support new customer growth.
AIS disclosed its operating results for FY22 with a total revenue of Bt 185,485 mn, an increase of 2.3% from last year, and net profit of Bt 26,011 mn. This has reinforced its strongest financial strengths in the industry, and underlines its leadership amidst challenges from the changing global situation, the market dynamics, and the changing competitive landscape. AIS shows leadership in every aspect in terms of services and network quality especially in the 5G network which captured additional subscriber growth of over 2.2 million in 2023. 
The expansion on Fixed Broadband outpaced the market from efforts in enlarging the service coverage areas. In 2023, a CAPEX budget of Bt 27 – 30 bn has been allocated to uplift and strengthen the digital infrastructure to support new opportunities and enlarge the customer base with superior coverage and quality in an autonomous network aligned with the vision of Cognitive Tech-Co. 
Somchai Lertsutiwong, CEO of Advanced Info Services Plc. (SET: ADVANC) remarked, "We have faced many challenges throughout 2022 from the severe market competition, the heightened inflation rates which impacted energy costs and consumer purchasing power, and the trend of global economic slowdown. However, our objective was clear and helped us deliver satisfactory performance in terms of revenues and subscribers while maintaining the strongest financial position in the industry.
"With our intention to enhance service quality and deliver a superior experience to our customers, AIS remains the telecom operator which holds the highest spectrum coverages including high, mid, and low wave bands totaling 1,420 MHz for every conceivable application. We have also built a Digital Ecosystem with our strategic partners, who are leading representatives of many different sectors, to serve the needs of the business sector with technological innovation and solutions."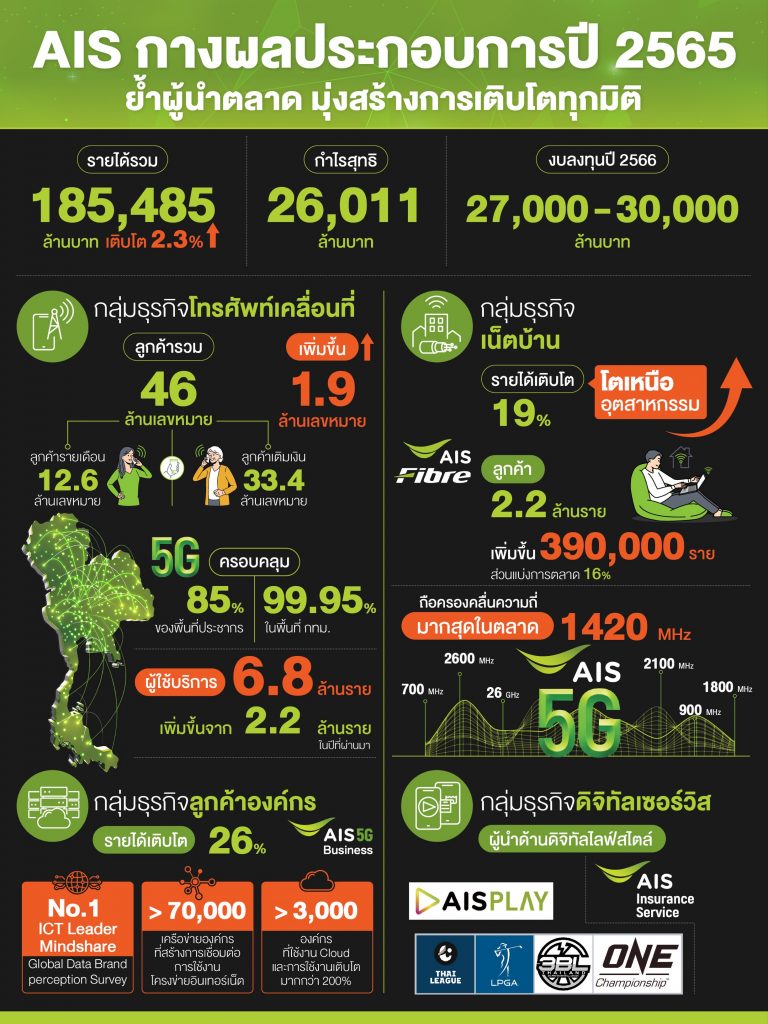 The FY22 brought in Bt 185,485 mn of total revenue, increased 2.3% YoY and net profit of Bt 26,011 mn, decreasing -3.4% YoY. The core challenges in the costs of energy and inflation softened by our continuous efforts in cost management resulted in the EBITDA of Bt 89,731 mn, reduced -1.8% YoY. The EBITDA Margin remained strong at 48%, and dividend payout for the second half of 2022 is 4.24 THB/share. The operating results by business segment are as follows:
Mobile Business AIS reported a net add of over 1.9 million subscribers, from delivering superior quality and services by creating a distinguished digital experience for the customers to avoid direct price competition. As a result, AIS has a total of 46 million subscribers, maintaining leadership in mobile market share especially from the growth in postpaid users in both revenue and subscribers. AIS 5G users surged to 6.8 million subscribers, a substantial growth from 2.2 million users as of the end of FY21. With the continuous efforts to develop service quality on the 5G network, AIS increased the network coverage to 85% of the population and 99.95% in Bangkok this year.

Fixed Broadband Business: AIS Fibre revenue grew 19% YoY in 2022, outpacing the market growth rate.  With 390,000 customers added to the business, the customer base was brought up to a total of 2.2 million resulting in a subscriber market share of 16%. It is AIS's intention to continuously uplift the fixed broadband market and elevate the competitive standards in both technological and service aspects. AIS was the first in Thailand to introduce the service of Fixed Wireless Access (FWA) riding on 5G mmWave technology. With the NOKIA partnership the 25G PON technology test was executed for the first time in Asia to provide exceptionally lightning-fast internet service. AIS Fibre is also the first player in Thailand to launch a 2Gbps internet service, and the first to upgrade the service standard with 24-hour troubleshooting. 

Enterprise Business: This is another segment exhibiting continuous growth and achieved a leadership in the industry with the enterprise non-mobile revenue growing 26% YoY. AIS Business remains the champion as a top-of-mind service provider to enterprises from a survey conducted by Global Data among 200 leading companies. Last year, AIS Business connected different business sectors through delivering technology and solutions focusing on building a complete Digital Business Ecosystem for the future of Thailand's digital economy. This includes providing digital infrastructure services that are innovative, efficient, highly secured, and trustworthy. With our readiness in Intelligent Network, Cloud Platforms and Cyber Security, the company is now rolling out to capture the digitization demands of the customers with intelligent data management service and new tailored solutions specific to each industry. The targeted industry solutions include Smart Manufacturing, Smart Transportation & Logistics, Smart City & Building and Smart Retail.

Digital Services: The company continues to leverage the capabilities in digital technology to design digital services matching with customer behaviors and Thai people specific needs in terms of content experiences and other digital products. AIS provides content services of Disney+ Hotstar, a global platform for video content, and expands to be the center of sports contents including Thai Premier League Football, Thailand League Futsal, Gold LPGA, 3X3BL basketball and the ONE Championship. The portfolio of digital services and products is expanded to meet every lifestyle needs namely digital insurance from AIS Insurance Service and online payment service through mPAY PGW – Payment Link solution to deliver easy, seamless, and secured payment experience.
"AIS has maintained a satisfactory performance in 2022. We will continue to invest with a budget of Bt 27 – 30 bn to achieve our vision as a Cognitive Tech-Co by continuously developing a resilient digital infrastructure, increasing network capabilities towards autonomous networks with the use of high-level AI and Data Analytics in compliance with global network standards. We are ready to support mutual growth and level up Thailand's digital economy at its grass-roots foundations to create seamless connectivity between all sectors including  government, private, and civil society." concluded Somchai.