AIS Business is making the Thai industry take notice with a new evolution to Intelligence Infrastructure. This boosts the capability of networks, innovation, solutions and enterprise platforms to deliver "real-time use cases" which efficiently cater to the needs of an organization. Cross-industry collaboration is key, and beachheads have been established in three core sectors of manufacturing industry, transportation and logistics, and real estate development and retail. These are the vital arteries powering GDP growth and the national economic system. A new philosophy underscores digital partnership between businesses and operators, which is focused on building mutual growth and reassurance to promote the Sustainable Nation.
Mr. Tanapong Ittisakulchai Chief Enterprise Business Officer (CEBO) explained, "We are committed to leveling up intelligence infrastructure to support the servicing of enterprise customers. Today we have everything in place to evolve the industrial sector by deploying digital as a crucial part of their work, to enhance efficiency and promote a competitive edge in the future. For the country's key industries, we are ready to deliver digital services and solutions to manufacturing industry, transportation and logistics, as well as real estate development and retail. These are key sectors driving national GDP growth, which is a crucial macroeconomic mechanism."
Tanapong added that AIS Business works under the Ecosystem Economy concept, which is all about building the economy together. Cross-industry collaboration is facilitated by a network of leading global partners, such as a collaboration with Microsoft to provide the Microsoft Teams Phone Service, or the progress of genAI innovation. This will level up working to be more efficient, by deploying Microsoft 365 Copilot for Enterprise.
Corporate-facing platforms and enterprise solutions which are being launched today include AIS Paragon Platform, which connects 5G Networks, Fibre, Edge Computing, Cloud, and Software Applications to enhance the potential of the industrial sector, and CPaaS (Communications Platform-as-a-Service), a platform taking care of all the corporation's communications needs in a Cloud-based format, Cloud PC for Business, a new service that enhances security through the use of computers in the form of Desktop as a Service (DaaS) on AIS Cloud infrastructure.
Tanapong also signalled readiness to provide digital services and solutions to three core industries of manufacturing, transportation and logistics, and real estate development and retail, which will be a huge boost to their potential, inspiring confidence and meeting the goal of sustainable growth for customers.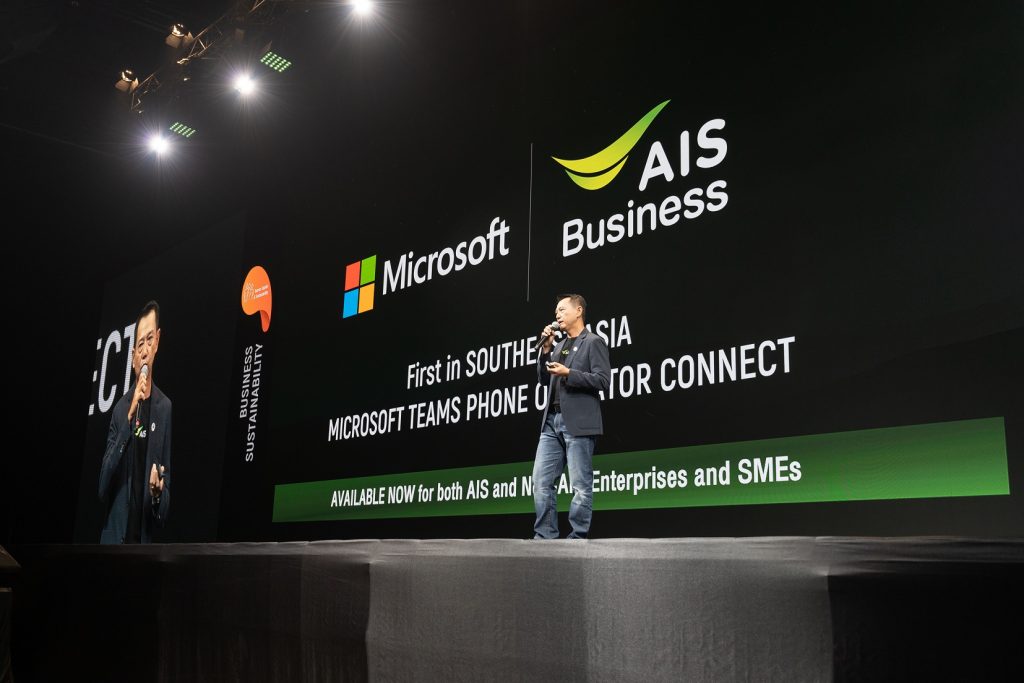 Mr. Narongchai Bunditworangkul, Vice President, Siam Toyota Manufacturing Co., Ltd., represents a digital partner deploying the capabilities of intelligence infrastructure to its work. He added, "Introducing 5G and other technologies to the company's work was an essential step and critical to our operations. For instance, we have deployed the Energy Platform to our manufacturing process, which enables us to collect energy usage data in real time, and even facilitates inspection and adjustment of manufacturing data as required. It builds resilience into our production line and supports the Toyota Global Vision. It is part of ensuring Thailand will remain a regional hub of automotive manufacturing."
Hutchison Port is a leading port services provider at Laem Chabang Port. Mr. Anat Matchima, Chief Operating Officer Hutchison Port Thailand (HPT), disclosed some fascinating facts: "The company has deployed modern environmentally-friendly technology to use energy efficiently, with a focus on safety and a conducive working environment. There has been joint development of the 5G Private Network specifically for port work. We have also developed the Smart Seaport system to efficiently control port equipment and even driverless loading vehicles at the port for the first time in the world. The Automated Gate service allows customers' container trailers in and out of the port automatically with fully autonomous operations."
In retail, two of the dominant players are Central Pattana and The Mall Group, who are both focused on Smart Retail. This unlocks the power of digital technology to enhance various capabilities and deliver the best possible shopping experience to customers.
Ms. Wanlaya Chirathivat, President and CEO of Central Pattana PCL (CPN) noted, "We have been a player in Thailand's retail scene for over 42 years and we give top priority to actions under our vision of Imagining Better Futures for All. This is a commitment to building a sustainable future for everybody, and AIS is one of CPN's core partners. We have jointly developed the necessary digital infrastructure for shopping malls to provide cutting-edge shopping experience mirrors, such as the launch of our first Flagship Store using smart robots powered by AIS 5G at centralwOrld. The Smart Mirror provides a service of trying on clothes with Virtual Fitting. This kind of collaboration ensures that Central shopping malls are truly integrated into the future of retail.
For The Mall Group, Mr. Charin Kanchanayoon, CTO of The Mall Group Co., Ltd., said, "The Mall is one of Thailand's leading retailers and we are always focused on incorporating technology into new shopping experiences for customers. We have set out strategies of corporate development involving deploying digital as a transformer and enabler of the work. This includes the development of distribution platforms providing convenience to customers. Previously, The Mall and AIS have jointly leveraged the potential of digital infrastructure and the 5G Network to develop customer services in various aspects such asProviding flexible, on-demand internet services to stores (Fibre to Shop), providing 5G, Wifi services, and providing marketing information services for customers (Marketing Behavior Platform) We continue to set targets to involve technology and innovation to power our business and satisfy customer needs more quickly. Shopping malls must be continually modernized and refreshed, with an absolute necessity to have a digital partner offering resilient infrastructure such as AIS. Together, we unlock even more potential for business."
Aside from the above, government networks and civil society organizations such as executives from the Digital Economy Promotion Agency (depa), Federation of Thai Industries (FTI), Industrial Estate Authority of Thailand (IEAT), Port Authority of Thailand (ATT), National Electronics and Computer Technology Center (NECTEC) and Thai Logistics Federation (THAiLOG) join forces to push industrial groups, including the manufacturing industry. Transportation and Logistics Business Group This real estate development and trading business group. creates new capabilities with digital technology, promote the national economy and sustainable business development together.