Sansiri Public Company Limited (SIRI) announced its 3Q21 consolidated financial statement through the Stock Exchange of Thailand as follows;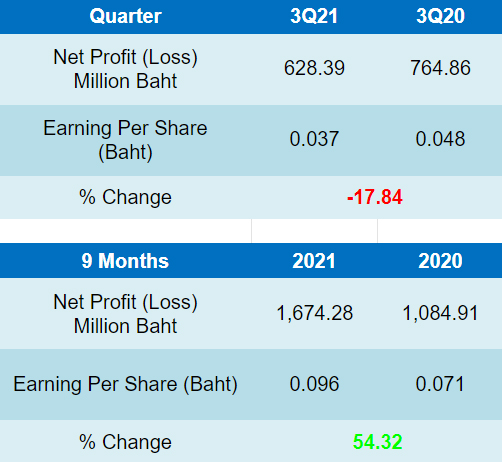 SIRI reported a net profit of THB 628.39 million in 3Q21, a 18% decrease from the same period of last year, as a result of total revenue amounted to THB 7,229 million, decreasing by 15% from THB 8,529 million in 3Q20. A decrease in total revenue was caused by a 16% decrease in revenue from project sales, which was the core revenue of SIRI, as well as a 37% decrease in revenue from business management. 
As a result, total revenue for the period of 9M21 amounted to THB 22,097 million, a decrease of 16% compared to that of 9M20 with the amount of THB 26,281 million. However, the net profit as of 9M21 significantly increased by 54% from THB 1,085 million in 9M20 to THB 1,674 million.
The decrease in revenue was caused by a decrease in revenue from almost every product type, except revenue from mixed products projects which increased by 251% compared to that of 3Q20. The decrease mainly resulted from the government measures on lockdown and construction site closure to prevent and lessen the spread of COVID-19 in 3Q21.