U.S. bond yields fell to its lowest level in three months on Wednesday as investors were monitoring the impact to the economy from Fed's aggressive rate hikes to tame inflation.
The 2-year Treasury yield dropped 10.2 basis points to 4.256% as of 3 p.m. Eastern. The 10-year Treasury yield fell 10.5 basis points to 3.407%, and the 30-year Treasury yield retreated 10.7 basis points to 3.414%.
At one point, the 2 and 10-year U.S. yield curve were the most inverted since 1981 with a spread of -84bps.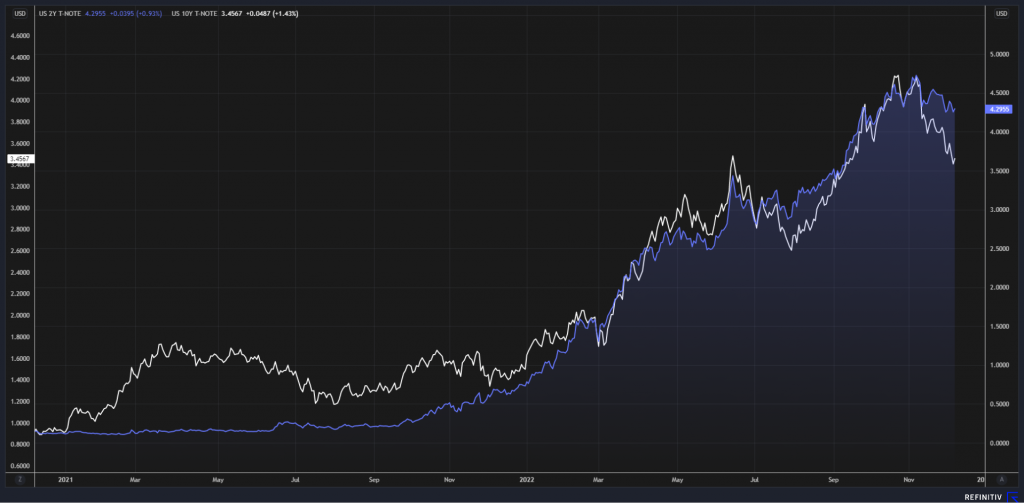 Recent economic data gave mixed sentiment to the market as traders are cautiously monitoring any signals from the U.S. Federal Reserve on the future economic outlook prior to the actual meeting on December 14, 2022.
The sentiment in the market is torn apart between positive outlook on Fed's starting to lower the size of rate hike, while some believe that interest rates will stay at a higher level for longer as the central bank keeps fighting persistently high inflation.
Meanwhile, Gold rose 1.1% to $1,789.67 per ounce on Wednesday amid falling US dollar and bond yields.