Boosted by a rebound in tech stocks, Hang Seng Index gained more than 5% in December, coming out of a slump in late October in fear that the Chinese government will relaunch lockdown measures in major cities to curb rising Covid cases.
Meanwhile, Shanghai Composite increased only by 0.79% in December.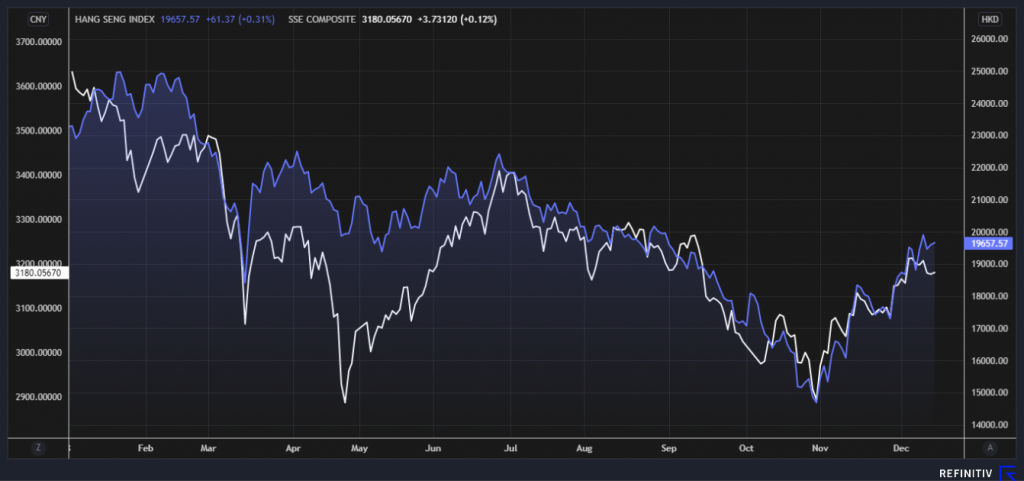 As for the new loosening measures, tourist arrivals In Hong Kong will no longer receive an amber code excluding them from entering some venues. The government also dropped the use of a government-mandated Covid-19 mobile application, according to the Chief Executive John Lee.
The relaxation of Covid-19 measures in the global financial hub curbs trailed most of the world in progression. However, it is set to boost resumption of business and travel, which the "amber code" had limited them from entry to restaurants and bars.
The government's move to cancel mobility-tracking apps governing entry to the restaurants and public areas such as clubs, salons, and gyms, came after China's mainland dropped the same requirement.
Business groups, diplomats and many residents in Hong Kong criticized Covid-19 rules, and said that these restrictions damaged the hub's competitiveness and standing as an international financial center.
Since early 2020, the rules have weighed on Hong Kong's economy that led to withdrawal of businesses from the financial hub.